Founded in 1970, the Las Vegas Rescue Mission (LVRM) started with a small storefront building that included the chapel, kitchen and a shelter that could house a few men. Today, LVRM campus takes up two city blocks in downtown Las Vegas, helping hundreds of men, women and their children daily, and provides approximately 30,000 meals each month.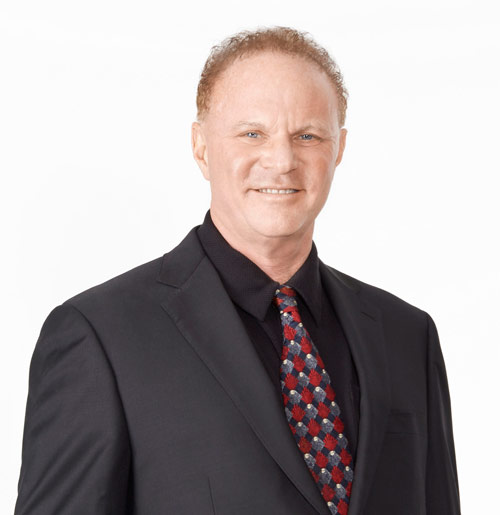 Walker Furniture and the Las Vegas Rescue Mission have combined efforts to support our community since 2012. Giving housefuls of furniture over the holiday season to families in need through our "Home for the Holidays" program, community partnerships like the Las Vegas Rescue Mission support and enhance the program experience for those less fortunate.
~ Larry Alterwitz, Owner, Walker Furniture
Dining & Training Facility
Added in 2009, this 10,800-square-foot multi-purpose dining and training facility seats up to 200 people at one time. The dining area can be divided into classrooms, and the second floor houses an additional classroom, providing space for training of Mission guests.
Shelter of Hope
With 68 beds, the Shelter of Hope is home to women and their children in need of emergency shelter, as well as women in our residential recovery program. A well-equipped playroom for children provides a sense of home.
Men's Recovery Facility
This two-story, 15,000-square-foot building has the capacity to  house up to 120 men in dormitory-style housing. There is an educational wing with a library for recovery classes, personal study, resume preparation, calling prospective employers, and more.
Men's Home & Shelter
Named for LVRM's Founding Director, the Rev. Edward H. & Beatrice G. Compton; the Men's Shelter houses 96 beds, available for overnight shelter and extended stays.
Chapel & Admin Building
Built in 1991, classes and church services are held here; it also houses administrative offices.
Church Services are held every Tue, Thur, Sun @ 7:30p.m. and is available to shelter guests and those outside of our gates.
Thrift Store
In-kind donations are prepared for sale in the Thrift Store, or given out free of charge to those in need at our Giveway House. Proceeds from our Thrift Store help fund our free programs and services for our guests.
Giveaway Building
A former residential home acquired by the Mission now hosts our Thrift Store giveaways. Free items are given away each week to families and individuals based on needs.
Intake
Intake is the screening process to admit new residents for overnight stay. Enter via the D street gate. Check-in for families and returning overnight guests is 3:00pm.  Check-in for male guests in need of shelter is 6:00pm. (first-come, first-served)
Education Building
A newly retrofitted building that provides classrooms for our clients in-program. Complete with desks, bookshelves, and a monitored computers, this area helps grow our clients and prepares them for graduation and beyond.
Medication Building
The resource to provide and track prescriptions for our program clients. Each client is given a schedule and collects their medication as needed.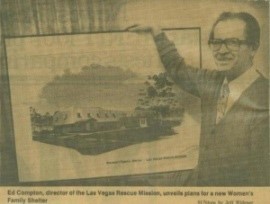 LVRM Founding Director Ed Compton unveils plans for the new women's family shelter.
Humble Beginnings
LVRM was founded in 1970 by a pastor and six businessmen who had a calling to help those who were homeless and hungry. Together, they secured a tiny storefront at 414 West Bonanza Road. By God's grace, they provided sandwiches and drinks, along with mats and blankets for men to eat and sleep away from the elements.
LVRM is more than just a shelter; we stand as a beacon of hope. We continue to adapt to meet the needs of men, women and their children in an ever-changing society. Through effective, innovative Christian recovery programs, the Mission provides a path for those who want to escape the despair of the streets.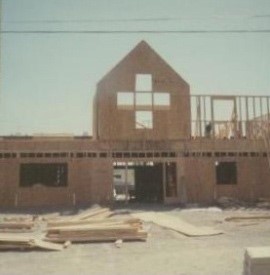 New Chapel/Administrative Building under construction in 1991.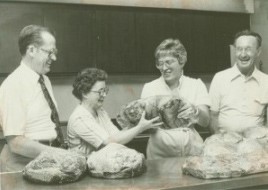 Ed Compton and staff sorting much-needed donations